Rock has reinvented the traditional yoga short. What used to be an article of clothing that you couldn't wait to peel off is now breathable! Yes, also not to mention it wicks away moisture too. Look, every pair is even handmade to the point where you never have to question the integrity of the product. Grab one of these before it's too late!
About The Art
Rock active reminds me of the strength and power of women in nature, professionalism and fitness. 
Product Details
Made with stretch high-tech fabric, our sleek and fitting Women's Mid-Rise Yoga Shorts comfortably move with you. Handmade with exquisite stitching provides you a great fit from work outs to lounging around.
Smooth, breathable fabric
Wicks away moisture
Comfortable waistband
Printed, cut, and handmade
Size & Fit
Fitted, four-way stretch
Sits just below waist
Inseam, size Small: 3.5"
Measurements vary, +/- 0.5" per size
Model is 5'11 wearing size XS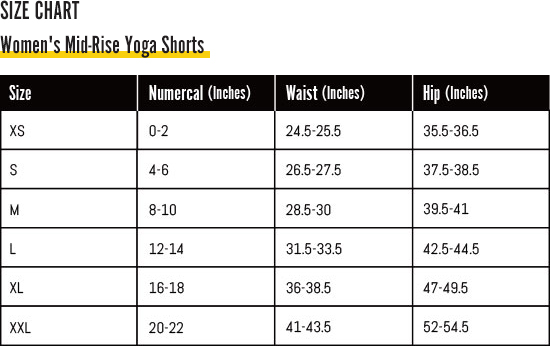 Our refund policy expires after 30 days. Gift cards are exempt.
Refunds will be issued without the need to return the item (evidence required) in the following conditions:
# the incorrect item was received in terms of color, size or item.
# the item is defective or in extremely poor condition.
# the estimated delivery time of the order has expired.
# the shipment went missing.
Custom Made Sports Shoes: unfortunately refunds cannot be issued for sizing disputes, however we are more than happy for exchanges.
Please contact us at letschat@revivewear.com.au if you would like to submit a refund. Our aim is to ensure you are completely satisfied with your purchase and we will endeavor to provide a solution that our customers remain 100% satisfied and happy with their outcome. Our extended refund policy terms and conditions are located at the footer of our
pages.
Our mission is to offer you the best shipping times worldwide and provide a high level of responsiveness to you at all times.
Our warehouses for active wear are situated in North America and Europe.
After your order is placed, it may take 2-5 days to print, cut and sew your products.This process includes your order verification, quality checks and packaging.
Shipping time from our warehouse to your destination varies depending on delivery destination. We will determine the fastest and most reliable shipping method for your delivery. We partner with global carriers to ensure that your products are delivered promptly. 
Free Home Delivery
Revive Wear proudly pays for the shipping costs, so our customers can enjoy free delivery where ever they reside.
Custom Made Sports Shoes Estimated Delivery Times: 
USA: 8 to 12 business days, Europe: 7 to 12 business days; Australia: 8 to 12 business days; rest of the world: 13 to 16 days.
Your tracking number will be issued 5 to 10 days on the order being placed.
If your package happens to be missing in transit and your address is completely correct, we will dispatch out a new order with tracking.
Please note: due to legal restrictions or shipping carrier limitations, we are not able to provide delivery to: Cuba, Iran, Iraq, Crimea, Syria and North Korea.